Just an hour from Cape Town, the Cape Canopy Tour is situated in a World Heritage Site within CapeNature's Hottentots Holland Nature Reserve, located in the scenic Elgin Valley.

Rated 2nd best Activity in Africa by TripAdvisor Travellers Choice Awards 2019
Voted 2nd best new activity in the World by Lonely Planet for 2015
The tour consists of eleven thrilling slides, some over 300m long, each ending on a platform constructed on the cliffs and fynbos covered mountain slopes above the Riviersonderend Gorge. A unique suspension bridge between a narrow sandstone ravine high above a spectacular double waterfall is guaranteed to be one of the unforgettable highlights of the tour.
Cape Canopy Tour is a fully guided nature experience with a strong emphasis on client comfort and safety. Two trained guides will accompany each group on the 4-5 hour tour. They will provide information about the endemic fynbos and geology of this unique World Heritage Site.
Please Note
The price is R895pp, which is invoiced as follows: Guided Zipline Tour (R500); 4x4 mountain transfer (R355); CapeNature park fee (R40). These are not available separately
Promos and special discount codes are not applicable to the Adult and Child Combo.
The private tour can accommodate from 1 to 8 guests. You will have a private 4x4 transfer and your own guides on the zipline tour.
Photo Gallery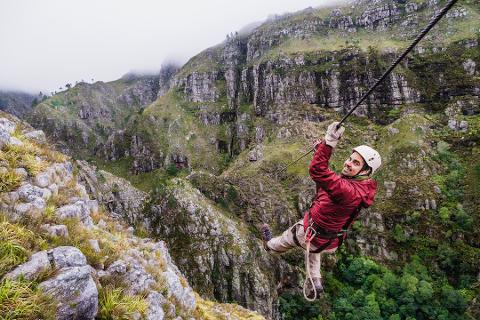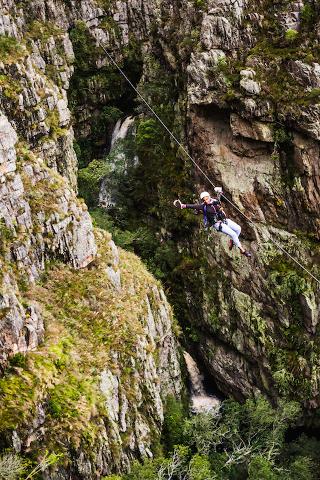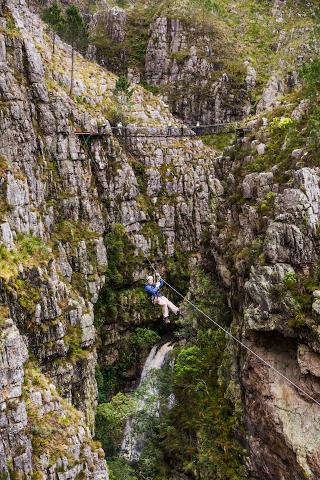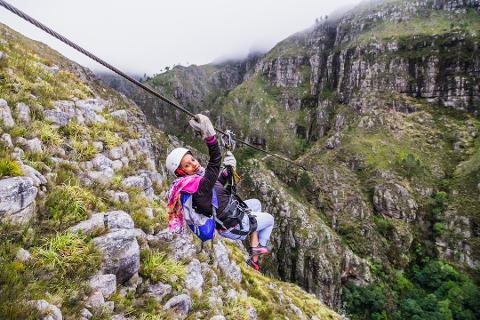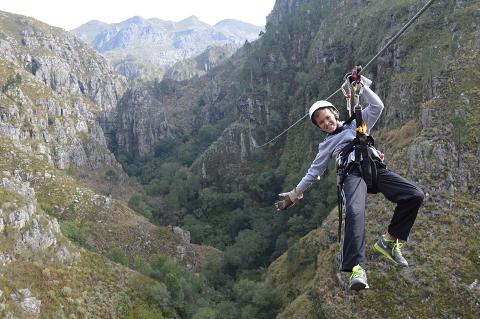 Terms and Conditions
TOUR INCLUDES: o CapeNature park fee o A return 4x4 trip through the nature reserve o Fully guided nature tour along 13 elevated platforms o A freshly baked Peregrine Pie after your tour (optional extra) o A personalised video (optional extra) WHAT TO BRING: o Warm clothes - weather in the Cape can be unpredictable up in the mountains o If it's warm, sunblock and a hat are advised o Comfortable clothes and shoes o You are welcome to bring a backpack, just keep it light and small as we want you to be comfortable o Your camera or you can use your smart phone, just remember it will be at your own risk HOW TO FIND US: o From the N2, turn off into Grabouw o Take the R321 towards Villiersdorp o Drive 11km, and you will see the entrance to the Hottentots Nature Reserve on your left WHAT TO EXPECT: o Coffee Shop - There is a small coffee shop at our reception area where you can enjoy a cup of coffee, join the free wifi or purchase additional drinks and snacks for your tour. Please note that there is no restaurant on site, so unfortunately we are not able to cater for specialized dietary requirements. o Fitness - This is an adventure activity, and we recommend a reasonable level of fitness: you will need to hike for 1km up and out of the mountain after the tour. o Optional Video - if and when possible, we will do our best to take a video of you, but please don't rely on this as your only memory. If all goes well, we will email you the video after the tour. This is not included in the tour price. o Tipping Policy - Tips are not expected, however, they are a large part of South African culture. If you feel that your guides went the extra mile, please feel free to show your appreciation JUST A REMINDER: o Timeous arrival - Our vehicles run on rotation, and as a result we are unfortunately not able to wait or hold up tours for guests that arrive late. It is your responsibility to arrive on time, no refunds will be given in the event of a missed tour o Tandems - If there will be any children under the age of 9 years on your tour, or if anyone on your group requests to go in tandem with a guide, please be sure to advise us via email on zipline@capecanopytour.co.za so that we are able to make arrangements. (Note: Our minimum age is 5 years old, and the children will need do the tour in tandem with the guide) o Clients are advised that the tour includes a 1km hike out afterwards and a bumpy 4x4 trip to the top of the mountain and back. A moderate level of fitness is therefore required. o We suggest a weight restriction per person of approximately 120kg to 130kg – this restriction is not weight related, but rather imposed by the size of the harnesses we use and is based on the circumference of the straps around the body.